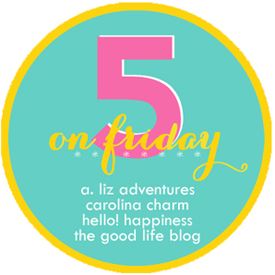 I have decided to link up with the creators of this fun Five on Friday Thanksgiving series as a way to give thanks and acknowledge all the little things I am SOO very grateful for during this Thanksgiving season!!
ONE. God's Word
The hubby and I have started a weekly ritual of bible study and speaking to God about what is on our hearts and minds each Wednesday. I am thankful for this time I get to spend learning and reflecting God's word and praying with my husband. It is just one of those special moments and things I hope we continue forever and I am confident that couples who pray together, stay together :)
TWO. Good Music

THREE. My Hubby
This man is by far my greatest blessing in life and I am grateful for and every day I have with him.
FOUR. Burt's Bee's Red Dahlia Tinted Lip Balm
Not sure where I would be without this stuff! It's SO moisturizing and even adds a little pop of color!
FIVE. The Best Simple Recipes Cookbook
This cookbook totally saves the day when it comes to quick, easy, and tasty week night meals. So many delicious recipes!
What are you thankful for? Drop your comments down below!